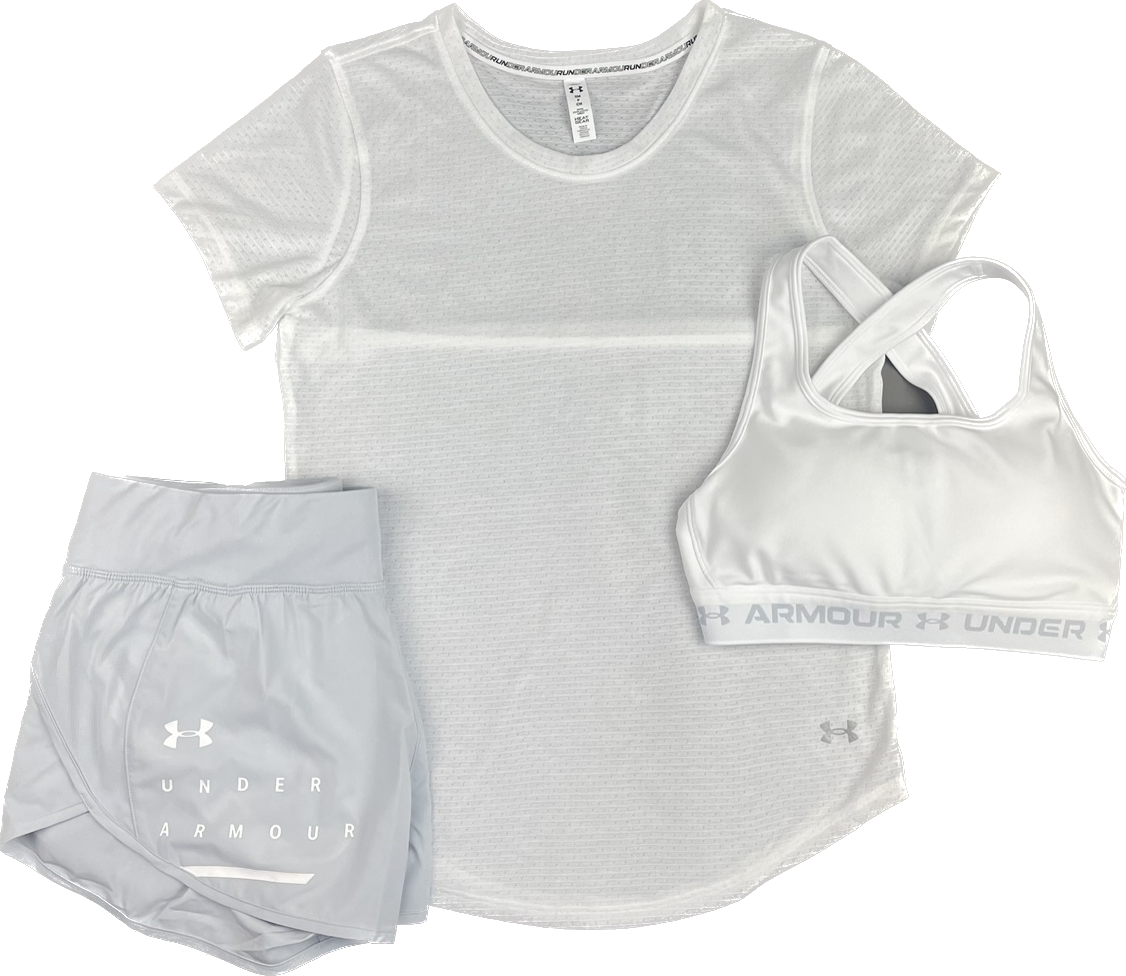 UNDER ARMOUR WOMEN'S T SHIRT BRA SHORTS TRIO SET - WHITE/HALO GREY
PLEASE ALLOW 2-4 DAYS FOR US TO DISPATCH THIS PRODUCT
Under Armour Streaker Run Women's T-Shirt
Longer distances and faster runs start with incredible comfort, perfect stretch, and a lightweight feel. That's what you get with UA Streaker. It basically feels like you're wearing nothing.
The Streaker T-Shirt offers UA Microthread technology in the fabric which allows it to dry faster, stops it from clinging to you, won't chafe and stretches without absorbing sweat. In addition, the material used for the construction features a moisture management system that works endlessly to wick sweat as it's produced. Once, wicked the moisture is transferred to the outer layers of the fabric where it can be easily evaporated, ensuring you stay cool, dry and comfortable. Furthermore, mesh panels throughout provide added breathability. The panels allow air to fully permeate the tee, providing a constant supply of fresh, cool air while simultaneously forcing out hot, muggy air. A dropped, shaped hem offers enhanced coverage while reflective details enhance your visibility during low-light conditions; keeping you safe and seen when road running.
The Women's Under Armour Speedpocket Short is designed for comfort and functionality during intense workouts. Featuring a Speedpocket—a water-resistant, expandable pocket on the front—it securely holds your essentials without bouncing. The shorts are often crafted from lightweight, moisture-wicking fabric to keep you dry, and they may incorporate anti-odor technology. With a modern fit and thoughtful design, these shorts are ideal for women seeking high-performance activewear that balances style and practicality during various athletic activities. Always check the specific product details for the latest features and improvements in the Under Armour Speedpocket shorts and the bra.